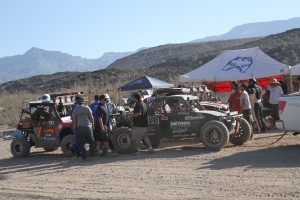 If you have never been to a LOCOS MOCOS pit, you have never had an opportunity to meet some of the most dedicated desert racing volunteers on the planet! They are a group committed to ensuring every racer in need is extracted, repaired, fed or simply has a place to hang out when your race day goes really sour. All desert racers know that pit support programs are a necessity to long distance races. Remote pit locations can make or break a racers day if they have all the necessary equipment to repair, refuel, feed or transmit to another pit location. 254 racers from 34 U.S. states and 15 countries signed up to compete in the 44th Tecate SCORE Baja 500.
The baja is not only a test of man and machine, but it also physically tests the people that offer remote pit assistance to the racers. Team LOCOS MOCOS battled bees and the record heat near Cohobuzo Junction at race mile 134 to run Baja Pits #3. The triple digit heat is brutal and tortures the crew every year. Yet we still go back, to the same spot. There were 40 motorcycles and 30 cars/trucks signed up for emergency or full pit services, and that equates to a lot of race gear to load and unload. There are hand tools to set up, welders, lighting, the cooking station, shower station, radio station, the fueling station, necessary shade, and the tire station.
The pit is located a few miles past the wash after the infamous summit. Team LOCOS MOCOS is dispatched to this pit location because it takes a custom trailer to haul this equipment to such a remote spot. By 8:40am bike 1x was through the pit and the long day started. The first serviced rider of the day to pull in was Kendall Norman @ 8:55am who was on a solo mission to run the 450 mile race course. A tangerine, fuel top off and some words of encouragement and the first roost in the pits was made. The action was non stop with the crew pitting 2 and 3 riders at times. For the next 3 hours we changed quad tires and fueled nearly 30 bikes. We had reports from several riders that 101x was down 2 miles before our pit. He was coherent but it took the rider over an hour after our initial reports of him being off the bike to make it to our location. He limped the bike into the pit. After initial assessments it became apparent that we had to contact SCORE OPS and request the helicopter to transport him for medical attention.
Every baja adventure has "a first". This is the first time in 15 years we have had to request medical attention at our remote pit. And when the heli landed and tossed all the ez ups and pit gear across the desert it was clear we under estimated how many people should hold onto the legs of our tent city.
At 12:45pm there was the first sign of thunder in the hills. The first 20 trophy trucks were through mile 134 within a 20 minute split on pit times. Truck #2 pulled in for 3 containers of power steering fluid. Cars 1204 & 1002 needed tires changed. Truck 746 pulled in for scheduled fuel, requested a drop in tire pressure and needed some visine. Our timing girl needed to rub her eyes when they pulled their helmets off (pit notes claim "HOTTIES"). Moto racers 151x & 257 opted to hang out and not have 6000 pound trucks ride on their rear fenders after both suffered early issues in the race. They enjoyed some food and shade and proceeded out of the pit at 4:00pm. By 4:30pm there were about 12 bee stings in camp and the temperatures still hovered in the triple digits. Golf cart 1802 required repairs and 1800 needed cracked motor mounts welded on the chassis. The first herbie through was at 4:45pm. By 8:58pm we had 244 racers tracked and timed through our pit location.
These efforts take a team of people in order to execute the logistics of picking up pit gear and transporting it to the pit location. I was fortunate enough to get to play that day on the race course. Neighbor Tim and Scotty put some miles on the trailer to get all the gear out to us. For all those that competed in the Baja, another race is over and the only thing left is the grand daddy of them all. The Baja 1000.
Team LOCOS MOCOS 2012 Baja 500: Neighbor Tim & Scotty, Baja Jones, Papa John & Billy the Kid, Ash, Bailey, Chase & Katie, OC Brumbley, Broken K, Gadget & Gidget, Baja Bro & Cousin Stacey, Val & Remo, ORW Jesus, Wero & Alex, N-Chaos.
Pit Notes:    Photo Credits – Remo Sagastume & Nicole Pitell-Vaughan
8:55am           9x- Fuel
9:07am           105x – Fuel & water
9:37am           8A- Fuel & water
9:55am           Rider notifies pit of rider 101x down 2 miles before the pit
10:02am         401X-Fuel & water
10:01am         105A & 106x – dual fuel & water
10:07am         149A- Fuel
10:11am         205x-Fuel
10:12am         252x- Fuel
10:13am         265x-Fuel
10:20am         101x  downed bike finally makes it to the pit
10:21am         60A- Fuel
10:26  am       260X-Fuel
10:41am         162A- Left front tire swapped
10:50am         64A- Fuel
11:00am         56A- Fuel
11:27am         254x-Fuel
11:35am         600x- Fuel & food (ironman 60+ class)
11:43am         269x-Fuel
12:45pm         18- First trophy truck
1:18pm           2- Power steering fluid fill up
1:21pm           104- First class 1
1:33pm           1004- First class 10
2:13pm           1204- Tire change
2:27pm           1614- HONKS!!!
2:29pm           1002- Scheduled fuel, tire change and added spare
2:32pm           1049- Pulled in with lost cylinder, checkers relay
2:45pm           419- Removed body panel
2:58pm           112- Fuel, added oil
3:08pm           1607- Fuel stop & water – 2 minute pit
3:20pm           839- Stopped, all was OK
3:24pm           746-"Hotties" fuel, visine, lowered tire pressure
3:27pm           Baja Jones pulls bee out of his @ss. Bee is DEAD!
3:27pm           1500- Food: to Nik "there is a lot of meat in there. Go at it", Jones
3:28pm           94- Limped in ate and limped out
3:57pm           151x & 257x bikes decide to exit pit and head for friends together
4:45pm           1101- First Herbie pulls in overheating, out at 4:50pm
5:15pm           740- Inspected truck
5:25pm           1802- Welding repairs, coolant & a "mulligan" out @ 5:33pm
Thought they had 80 miles till next pit. Jones to driver "Go ahead, roost us! Roost us hard!"
5:25pm           1804 & 1646- towed into pit
5:35pm           1646- Leaves pit on a tow
6:25pm           1625- Welded rear chassis out @ 6:48pm
6:45pm           30- Courtesy wave from Robbie Pierce as he cruises by
8:58pm           1800- Golf Cart, welded motor mounts left @ 10:15 to finish race
"If you go solo you want it in the front," Jones